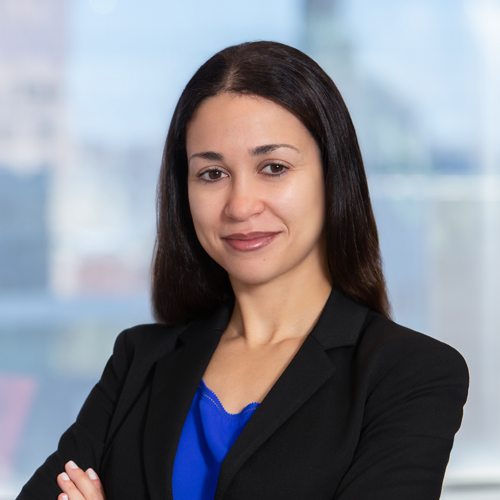 Cara M. Tolliver, MLS(ASCP)CM
Attorney
Phone: (414) 721-0459 | Fax: (414) 721-0491
About Cara
Cara Tolliver is a certified Medical Laboratory Scientist and an attorney with more than a decade of training and experience in the clinical laboratory, including the performance, administration and management of these services. In addition to her law degree, Cara holds a dual Bachelor of Science degree in Clinical Laboratory Science and Microbiology and has worked with various health care systems to provide laboratory testing services throughout the country. As a former laboratory manager, Cara has overseen lab operations and quality to ensure compliance with federal CLIA requirements, state requirements and accreditation standards, including the College of American Pathologists ("CAP").
Cara focuses her work on advisory services related to inspection preparedness, providing internal audits and gap assessments to clients in order to identify and mitigate compliance and safety risks. She has excelled in developing and improving numerous laboratory policies, procedures and action plans that foster a high standard of patient care. Having worked in a plethora of laboratory settings ranging from smaller hospital labs to larger reference laboratories, Cara has an extensive awareness of the many factors and technicalities involved in lab testing throughout the pre-analytic, analytic and post-analytic phases. Further, she understands that effective communication both in the laboratory and from the laboratory is essential to the delivery of quality lab services. Drawing upon her extensive experiences, Cara also advises clients on lab management and administration, including licensing, certification and accreditation; compliance; quality; patient safety; employee engagement; and client satisfaction.
As a leader in facilitating continuous laboratory improvement, Cara pushes laboratories toward excellence and has built engaged teams, leading to increased patient and physician satisfaction and continuity of care within the greater health system. In addition, to build understanding and transparency concerning lab technology, instrumentation and testing processes, she has developed training and presentations for lab and non-lab staff alike and implemented competency assessment programs for testing personnel. Recognizing the importance of ensuring the health and safety of lab personnel to the delivery of safe and uninterrupted patient testing services, Cara was active in the laboratory during the Ebola outbreak of 2014 and was instrumental to developing emergency preparedness planning. As an active member of both the American Society for Clinical Pathology and the American Health Law Association, Cara stays abreast of continuously evolving changes and challenges in health care and health care law.
EDUCATION
University of Wisconsin - LaCrosse, B.S., summa cum laude - 2010
University of Wisconsin Law School, J.D., cum laude - 2020
memberships
American Society for Clinical Pathology
American Health Law Association
Relevant Experience
MLS(ASCP)CM
Laboratory Management and Administration